Wednesday, October 7, 2009
HEY ALL!!! Nexo chalet in 5 days time!! Woohoo!
The details:
Venue: downtown east chalet (unit to be confirm again)
Date: 9-11 OCT
Price: $15 per pax!
We are meeting 3pm @ downtown east =DD
Prepare the things you need for 3d2n =DD
Just in case:
Mathew: 97356577
LingHui: 96557668
Derek Sim: 91729077
xoxo 4:42 PM
Thursday, September 3, 2009
Outing Details Finalized...
After much responds from the tagboard, it is decided to have a combine outing.
We will have both the glam outing and airport dinner on the same day!!! Wohoo!
Okay here are the details...
Date: 12 September 2009 (Sat)
Dress code for the entire day: Glamy, nice nice de, blink blink oso can.
(Those want to wear flip flop and shorts sorry hor, next time we plan unglam outing okay?)
Part 1: Town/Glam outing
Meet: Somerset MRT
Time: 1 pm (grace period is half hour)
Activities: Window shopping, Movie @ cineleisure or the cathay, Kbox and Optional (Pink hair extension that GLs have it during FO for nexo chalet) lol -.-
Part 2: Airport dinner
Meet: Terminal 3 basement Fountain/playground area
Time: 6.30 pm (grace period is one hour)
Activities: Dinner, airport hide and seek
Bring along cameras too and rmb to take lots of photos =)
xoxo 10:08 PM
Wednesday, August 26, 2009
Hey Nexoians, Holiday is coming!!! Are you X-CITED!?!?
How about an outing before the Chalet? It would likely be:
RANDOM DINNER III @ airport
(or)
Glam/Town outing 2.
Please indicate which one u prefer on the tagboard. Suggestions on venue, time and dates are welcome.
Sunny ckp
xoxo 8:49 PM
Tuesday, August 25, 2009
Hey People! Sorry for the late updates on Chalet!
The confirm details:
Date: 9 to 11 OCT
Venue: 2 rooms @ Costa Sands Down Town east!
Price: $15 per person
Please tell me, LingHui (96557668) whether you are coming for chalet or not.
Pass the money to Mathew during the chalet itself.
Thank you!
LingHui =D
xoxo 9:38 PM
Thursday, July 9, 2009
HELLO ALL!
You guys are BOOKED!
GOOD NEWS TO ALL,
WE ARE HAVING

NEXO CHALET!



Date: 24 to 26 september
Venue: Aranda Country Club
Price: To Be Confirmed

PLEASE CALL/MESSAGE MATHEW @ 97356577 IF YOU CANNOT MAKE IT!

Reply your responses on the tagboard by

19/7

!
Your reply is greatly appreciated =D

Less than 50 reply, we will not book the chalet! Please reply
Enthusiastically

!!
LingHui
xoxo 1:06 AM
Tuesday, July 7, 2009
HELLOOO NEXO(:
Just wanna tell the BUSINESS students from nexo that....
BSC SUBCOMM RECRUITMENT HAS STARTED (:(:
Do come down for the interview this week
if you wanna have a year of fun-filled poly life (:
date: 6th - 10th July
time: 4-6pm
venue:
| | |
| --- | --- |
| Dates | Holding Room |
| Mon, 6th July | Room 4-47 |
| Tue, 7th July | Room 4-42 |
| Wed, 8th July | Room 3-18 |
| Thu, 9th July | Room 4-38 |
| Fri, 10th July | Room 4-42 |

Hope to see you guys at the interview(:

xoxo 12:33 AM
Thursday, June 25, 2009
Hi

NEXO freshies and GLs

,

this is to inform you that the ordering of

FRESHIE(white)

shirt will end on this

SATURDAY 27th JUNE 2009

,

12noon

.

For those who wish to order, please send in your particulars to my email add:

nike_pavillion@hotmail.com



THIS IS THE FINAL CALL FOR THOSE WHO WISH TO ORDER THE SHIRT.THERE WON'T BE ANYMORE ORDERING AFTER THIS ROUND. THANK YOU!=D



NEXO♥,




JeeHui



xoxo 7:24 AM
Monday, June 22, 2009
hello hello!
it's time for AGMsssss, which stands for
Annual General Meetings
!
it's actually like a second part of elections; its the time where the main committee members are officially introduced to everyone (with their posts in the committee) and they'll also introduce the excitingggg activities planned for the entire AY! and there'll be performances/refreshments etcc too!
so yess, please mark the dates down in your busy schedule to pop by these AGMs to support them :)
ohyess and did i mention?
there's usually a theme for each AGM so have fun, and dress accordingly!
SUN, SURF, SEA AND SAND!
COME DOWN IN YOUR BEACH WEAR :)

AYE AYE CAPTAIN!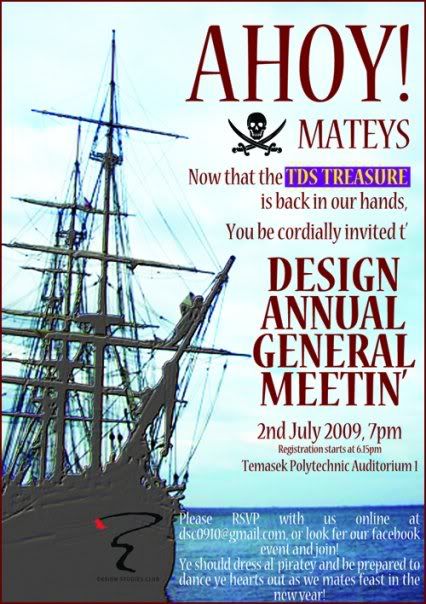 for DSC's agm, do RSVP at http://www.facebook.com/event.php?eid=213877235257&ref=ts if you're going!
thankyouverymuch :)
-jiamin
xoxo 11:23 PM
Sunday, June 14, 2009
Hello NEXO GLs and Freshies,
Any of you wanted to order freshie shirt? especially GLs? Because I can try to help you order the shirt again, but ONLY IF THERE ARE MORE THAN 20 ORDERS.
so if you wish to order the shirt, can you email me your name, course, school, contact no. , email and shirt size (same as empire or FO shirt)?
JeeHui's
EMAIL IS
nike_pavillion@hotmail.com
Thank you! We keep you guys informed whether I'm able to order the shirt. Yup=D
xoxo 11:36 PM
HEY NEXO!
GLAM OUTING HAS BEEN POSTPONED DUE TO TOO LITTLE RESPONSE! AS YOU CAN SEE FROM THE LACK OF RESPONSE ON THE TAGBOARD.
though it has been postponed, we would still love to hear suggestions from all of you. so please continue tagging on the board! you can choose to tag as anonymous, but just give ideas on where we can go!
THANKS ALOT!
WE ALL WANT THIS GLAM OUTING TO HAPPEN RIGHT! =)
xoxo 8:09 PM
Saturday, June 13, 2009
JonnyBoy
here...hmmm guys it has been awhile ever since the WHOLE NEXO has come together...and i mean it!!!!

I MISS NEXO...
.
Hmm what i am suggesting is that we meet up this coming week before school term starts again...like lets say
MONDAY!!
!
we should have another
NEXO GLAM OUTING part II
!!!!!!!!!!!
what say you people?????
okok details here..
Date

:

Monday
Place

:

Suggestions anyone??
Do what

:

Movies???

chill??

as long it is together (spam the tag board for suggestions)
Target Audience

:

NEXO (FOW+FOC)
Tagging on the the sucess of the first NEXO glam outing...i hope part 2 of it would be GREAT too...
Please gimme suggestions....GLs please HELP!!!!
****** sorry i missed the second sports day, i did not check blog and was not awared...my bad ...
xoxo 9:58 PM
Monday, June 8, 2009
Hmm
..can we have another NEXO sports outing before the school term starts? It'll be fun as all of as can get together as NEXO-ians and play together.
WHERE

: TP
WHEN: 11 JUNE(thurs)
TIME: 12-1 pm
WE can probably go for lunch together before having the sports outing if you guys are in for it. Otherwise,we can simply meet at sports complex
.
Rmb to bring water bottles as the weather will probably be hot.
(= (= (= den
xoxo 1:07 AM
Thursday, June 4, 2009
NEXO! JI DIAN LIAO! CHALET TIME!
Please check your emails! We have already sent out emails to you all.
For those who received the emails, please forward to as many NEXO freshies as possible.
For those who havent received the emails, please contact me at
91729077
, stating your name and email address. I will then send you the email!
AND THE MEETING TIME IS
12 - 1PM
YEAH! DONT BE LATE!
MEETING PLACE WILL TELL YOU ALL AGAIN!
Thanks!
See you ppl Saturday!
xoxo 3:06 PM
Saturday, May 30, 2009
TO NEXO:

This is regarding the comments on the tagboard. We have come to a conclusion that Andrew who commented on the blog is

NOT

Andrew.
FFC who commented is

NOT

FFC too.

It is just somebody trying to pass off as Andrew and FFC, so just ignore the comments. Thanks!


TO "ANDREW"
and "FFC":

If you are somebody from Nexo, please stop this as we do not want anything like this happening in Nexo. Please do not bring your personal grudges for each other onto the blog.

If you are not from Nexo, please respect our blog and if you don't like someone, settle it somewhere else, not here.

Lastly, get a life man seriously.
xoxo 4:35 PM
Tuesday, May 26, 2009
Hello guyssss!
Ok the money collection for the chalet abit slow ah!
The chalet's gonna start like

next week

and we haven't collected much!
So can please do us a favour by paying me or Mathew?
Can reach
me @ 81394573 or Mathew @ 97356577!
And to makes things abit easier for us and yourselves, perhaps you all can collect they money from your fellow Nexo-ians and pass it to me at 1 go. ( Must remember the names ay ) Because we got pretty inflexible timings in our MP. So yaaaa please do us this favour :D
You can sms us to pass us the money and preferably like after 5.30pm!
Or if not meet us near the
entrance of engine school
ay :D
xoxo 12:10 PM